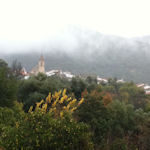 Sierra Sensations
This a week to completely immerse yourselves in the sights, sounds, aromas, tastes and textures of the Sierras. Discover the history and the legends of the villages as you pass through their cobble stoned streets.
Each day has been designed to tantalise each of your senses as you pass through our marvelous landscapes . . .
Our guided activities offers a surprising aray of colours and flavours to be explored, some by day and others by night . . .
Let our professional nature guides introduce you to the biodiversity of the Sierra Morena . . .
Here we have something for everyone - this is the ultimate in Sierra Experience - a rich tapestry of purity and beauty within the Sierra de Aracena.
Our guides are conscious of the need to create a sustainable future, demonstrating complete respect for the conservation of the Natural park and each of its incredible corners . .
Sierra Sensations - 4 Nights
Day 1
Arrive in Aracena and check in for the first part of your Sierra experience in the luxurious accomodations of La Casa Noble, a stately home in the center of the village of Aracena. Join us for Tapas at Twilight and meet Antonio Jesús. Here he will explain what the next days have in store and answer any queries you may have.
Day 2 - Lunch in Corteconcepción
Start the day with a stupendous breakfast and get your walking boots on. Take your time walking to the nearby village of Corteconcepción. In the expert hands of your guide, this walk becomes an immersion in the flora and fauna of the Sierra. Take a well earned rest and indulge in the most succulent piece of pork ever for lunch. After lunch, the day continues with a tour of the Dehesa where you will see first hand the connection the land has with the pork products produced here. Visit a family owned and operated jamón factory before returning to Aracena for a well earned jacuzzi and tapas in the evening.
Day 3 - Lunch in Aracena
On this day we will spend the morning enjoying a circular walk that leads us back to Aracena where we will enjoy lunch at one of the local restaurants. In the afternoon, let our guides introduce you to the rich tapestry of art and architecture, culture and history that is Aracena. Visit the caves and the visitors center and after stroll the cobbled streets of Aracena. In the evening, join us for typical tapas in a local bar, where we will guide you through the menu and make sure you don't miss a thing.
Day 4 - Lunch in Linares de la Sierra
After a perfect nights sleep we will start the day early for a full day of hiking. Todays trail starts in the village of Castaño del Robledo and winds through the Sierras visiting the villages of Calabazino, Alájar and the Peña de Alájar, and on to the enchanting village of Linares where lunch awaits at Restaurante Arrieros. Here we will have a light tasting menu prepared. It is a well earned rest before the final 5 kms home to Aracena.
Day 5
Indulge in one final La Casa Noble breakfast before saying your farewell to the Sierras and your guides, but take with you fabulous memories of an incredible stay . . .
Minimum 4 People
Price for 4 Nights 5 Days €1290 Double
Price for 4 Nights 5 Days €990 Single
Airport transfer available upon request*
*Available at additional cost
Sierra Sensations - 7 Nights
Day 1 - 4
Please see 4 Night Itinerary
Day 5
Free day to do as much or as little as you wish . . . . Consult our activities page and let us know if there is something else you would like to do while you are here.
For the more adventurous, we offer a spectacular evening walk where you can learn more about the stars that light your way. Enjoy toasting the holiday with your fellow travellers in the tranquility of the mountains at night. A breathtaking experience - and a perfectly safe one with your professional guide at the lead.
Day 6 - Lunch in Castaño del Robledo
We set out early on a beautiful walk that takes us to and through the villages of Los Marines, Fuenteheridos, Galaroza and finally Castaño del Robledo. where we will have lunch. At Maricastaña they specialise in putting their own modern twist on traditional favourites using local produce and regional ingredients. This time we will be coming to collect you to return you to La Casa Noble to enjoy the evening in Aracena.
Day 7 - Picnic in the Campo
Our final day has us setting of on a full day walk with a fabulous picnic in the campo as our farewell to the Sierras.
Day 8
Say your farewell to the Sierras but take with you fabulous memories of an incredible stay . . . You might be back!
Minimum 4 People
Price for 7 Nights 8 Days €1990 Double
Price for 7 Nights 8 Days €1390 Single
Included in the Price -
4 or 7 Nights Stay - La Casa Noble, Aracena - "The Complete Experience", Programme of Activities, Specialist Guide in Nature and Culture, Entrance to the Caves and Jamón Museum, Fixed Menu Lunches (3 or 5), Hiking Equipment - Maps, Binoculars, Torches for night walks, camping guides, Transfers between pueblos, All taxes.
Airport transfer available upon request*
*Available at additional cost